After years of service
to our country, many veterans now live in nursing homes, largely forgotten. Some, with as little as $20 a month for personal use, are unable to enjoy the freedoms they fought so hard for.

A
501(c) (3) public charity based in Daytona Beach,

VETERANS SUPPORT FUND

was founded to help local disabled veterans and ensure they are appreciated, loved and never forgotten. The fund provides activities, concerts, necessities, dinners out, and birthday and holiday gifts...and is operated entirely by volunteers.
100% of donations go directly to the veterans.
Would Like to Thank Volusia Bourbon Society for their donatio of $2,400 to the Veterans Support Fund.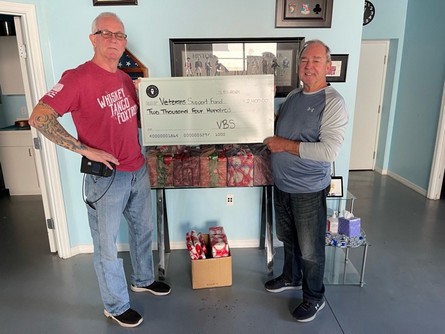 Tax-deductible donations may be made using the Donate Button
on this website or made payable to:
600 Mason Avenue, Suite 140
Daytona Beach, Florida 32117
On behalf of our local veterans,
YOUR CONTRIBUTION IS GREATLY APPRECIATED!